Painting interior doors is a great opportunity to inject some additional colour into our homes.  I know for some of us this can sound a bit risky and nail biting but I promise you will love the outcome.  A painted door can add a great accent to your home. If you are a bit colour timid start with just your front door.  Ensure that the colour you use relates to other pieces or accents in the room.
Black is a common colour used for interior doors but gray or chocolate brown can look sophisticated as well.
I've had some clients ask if you are painting the door do you need to paint the trim as well? My opinion is that it's not necessary – I think the white casings make your painted door even more dramatic.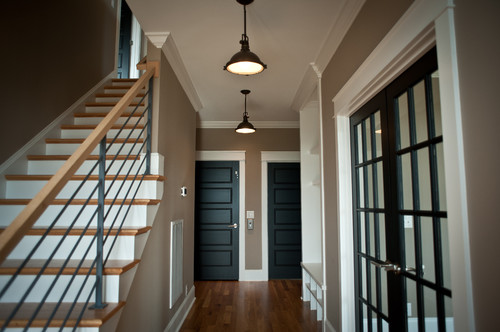 Painting your door can take it from your builder grade stock door to something elegant and special. And an added bonus is they can hide fingerprints and smudges (as long as you don't use a high gloss finish).
I added this picture just because I love the look of this room with the door colour picking up on accents in the room!
Photo by Katie Rosenfeld Design – Browse beach style hallway ideas
 I painted the doors in our home a dark chocolate brown over a year ago and I still love them.
 If you need help choosing a colour for your doors or any other room in the house please give me a call or email me for your own personal colour consultation.