I'm not sure why but people seem to either love or passionately dislike the colour green.   Green is one of my favorite colours but honestly there aren't many colours that I don't love as long as they are used in the right application.  Today I am going to try and convince those who don't think they like this beautiful colour that there is a green for everybody.
One of the reasons I love green is the connection (in my mind anyways) that our long winter will soon be over and warmer weather is on the way.
For 2017 Pantone (they are the cross-industry authority on colour)  chose "Greenery" as their Color of the Year.   It's a very fresh, cheerful and rejuvenating shade of green.
Here is a good example of a real life application of this sassy colour.  How can this colour not make you feel happy.
Photo by Suzette Sherman Design – Look for modern kitchen pictures
Greenery definitely has large doses of yellow undertone.  A more sedate green that still has those yellow undertones is often referred to as sage green.  I think for many of us this may be a more liveable colour.  This colour is also great as a neutral.
Photo by OLSON LEWIS + Architects – Browse traditional bedroom photos
If sage isn't your cup of tea you may fall in love with another variation which has blue undertones.  Sometimes referred to as mint or it's darker cousin emerald green this colour can tend to feel a bit cooler so it may not work in a north facing room.  But this green can certainly add a fresh pop of colour.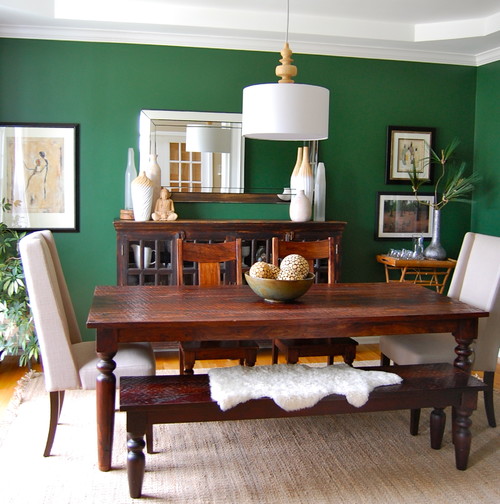 Photo by Shine Design – Browse contemporary dining room photos
Photo by Creative Touch Interiors – Browse traditional bedroom ideas
If I still haven't convinced you green is a beautiful colour you may prefer your greens straight up.  Meaning there is no yellow or blue undertones.  I love this colour when incorporated with gray.
o