One of the hottest colour trends right now is a shade of pink often referred to as Millennial Pink.  But what is Millennial Pink?  This colour is not just any pink – it is a lighter, muted pink that leans more towards a peach or blush.  While it's a more subtle version of pink it is still pink and you need to be confident in order to incorporate it into your home.
Some people say this trend towards using Millennial Pink started in 2014 with the popularity of the movie The Grand Budapest Hotel.  Others say it was return of rose gold into our interiors but in reality this colour has been around for centuries.  Regardless of why this colour is so popular right now, it can be incorporated beautifully with black, grays and whites.
Since Millennial Pink may be a new term to you – let me show you a couple of examples of what it's not.
Photo by Ana Donohue Interiors – Search kids' room design ideas
Photo by Studio V Interior Design – Look for family room design inspiration
As I mentioned earlier Millennial Pink is a more subtle, peachy version of pink.  Here is a beautiful version of Millennial Pink by Sherwin Williams called Mellow Coral SW 6324.  I like the idea of pairing it with the darker furniture as it keeps the room from looking too sweet.
Photo by Echelon Custom Homes – Browse bedroom photos
The darker accents such as the headboard, mirror and light fixtures give this room balance.
 If you like this colour but painting a whole room is too much for you, consider just painting an accent wall.  Remember this trend isn't going to be around forever. Repainting just one wall may provide more incentive to bring this colour into your home.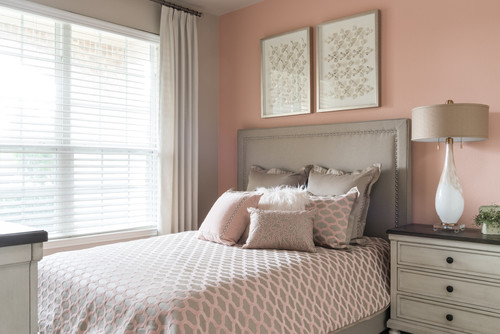 Photo by Decorating Den Interiors – The Frazier Team – Browse bedroom photos
Photo by Domus Nova – More living room ideas
And of course you know I couldn't go a whole blog without mentioning the option of bringing this colour onto your door.  This is a beautiful example of Millennial Pink. The dark hardware is a perfect accent.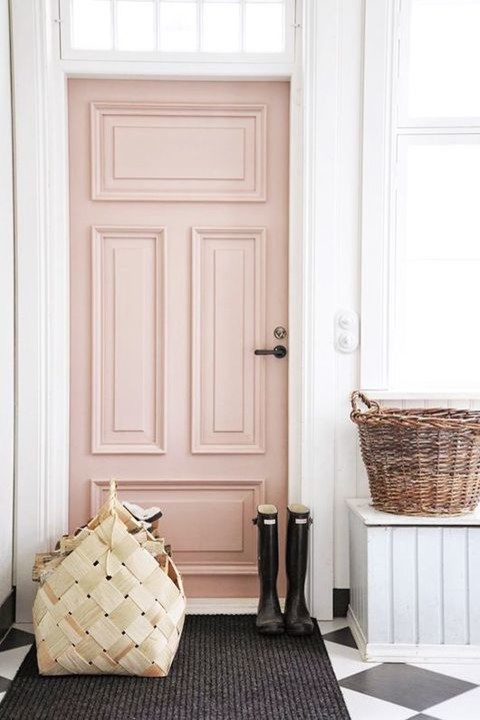 Accessories
Accessories are always a great way to bring a colour trend into your home.  With neutrals such as gray and white so popular right now, Millennial Pink would be a great colour to add as an accent.
Photo by Decorate with Kate – More family room photos
Photo by Dona Rosene Interiors – Look for bathroom pictures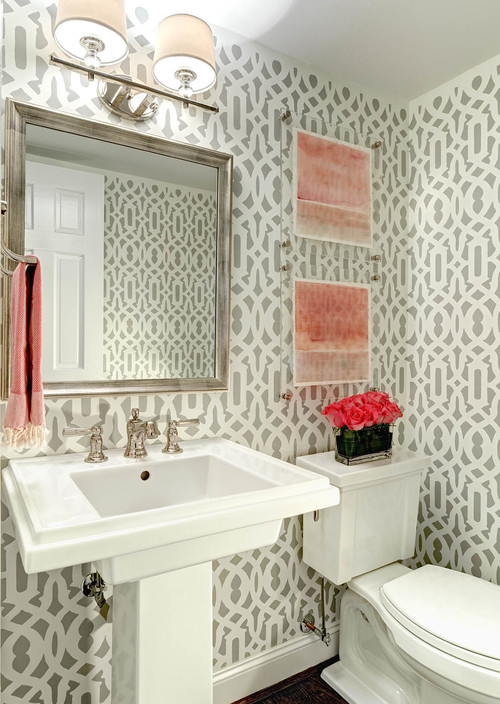 Photo by traci zeller designs – Look for powder room pictures