Botanicals prints are everywhere right now in both fashion and home décor.  If you like this look don't go with the small and spindly design but with the bigger and bolder prints for a more current feel.  Palms, ferns, vines or any large leafed plant can be incorporated into your home to achieve this design.  There are many ways to bring this look into your home – here are just a few ideas.
Wallpaper
Yes I am going to say it – wallpaper is a great way to incorporate this trend into your home.    I think we all have a horror story or two about removing wallpaper but like everything else this product has come a long way.   I like the idea of using it in small doses to create a big impact.
Photo by LUX Design – Browse home office ideas
Photo by Graham & Brown UK – Look for hallway pictures
Pictures and Prints
 I like the simplicity and clean lines of incorporating this trend with pictures.  Use multiple pictures to create a bigger impact.  Black and white prints will incorporate this look in a more modern way.
Photo by Niki Papadopoulos – Discover living room design inspiration
Photo by OLSON LEWIS + Architects – Look for family room design inspiration
Other ways you could incorporate this trend into your home is with accessories such as pillows, bedding or by bringing plants into your home (real or artificial – your decision – not here to judge) 🙂
Photo by Tom Stringer Design Partners – Look for bedroom design inspiration
Photo by Charles R. Myer & Partners, Ltd. – Discover living room design inspiration
Photo by Mary Cook – Discover bedroom design inspiration
Paint
Rather then using actual botanical prints to incorporate this trend consider bringing the colour into your home through paint.  Dark green, often referred to as Hunter or Pine green,  has become a popular colour again.  Pairing this colour with white makes it feel fresh.  It can make a nice accent colour.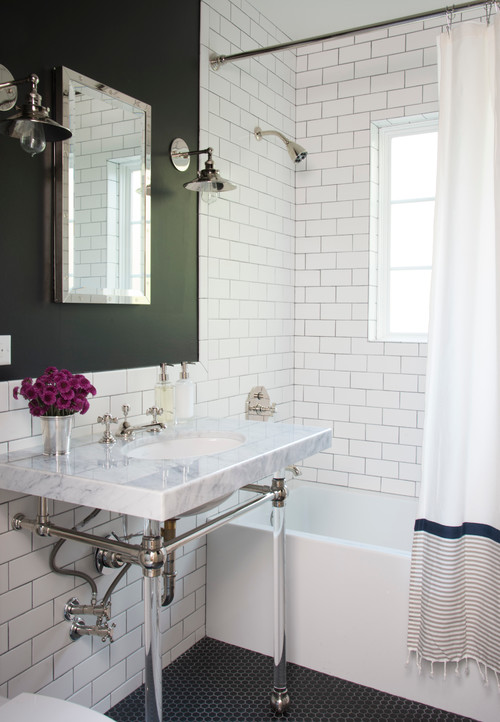 Photo by – Look for bathroom pictures