Following colour trends is a great way to get inspiration for your home.  Dark and dramatic interiors may make you a bit nervous but there are many ways to implement this trend into your home.  When decorating your home I would always recommend that your more permanent finishes such as counters, flooring and cabinets be as timeless and classic as possible.  Try adding a popular colour trend in a less permanent way with accent pieces such as pillows, rugs or paint.
In this room the more dramatic colours have been brought in through the use of pillows, drapes and even the lamp shades.
Photo by Handman Associates – Browse contemporary living room ideas
Bold colours look beautiful with the latest finishes such as brushed gold and black stainless steel.  I love how the gold fixtures look against the darker cabinets. If a lighter colour had been used on the cabinets the result would have been much different.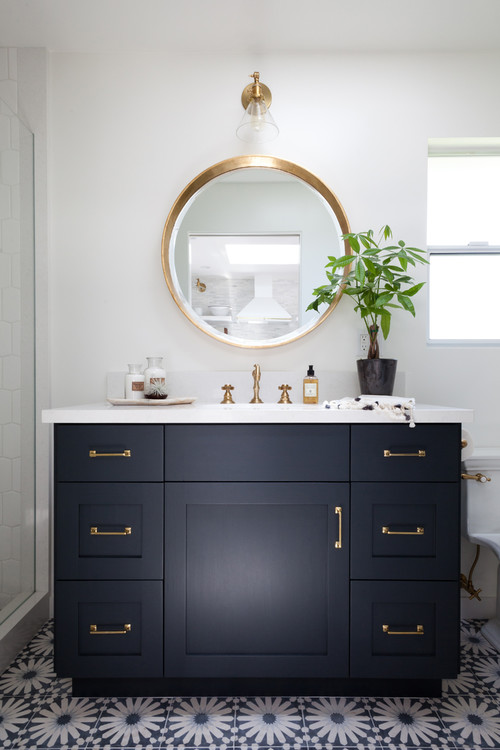 Photo by Holst Brothers General Contractors – Discover beach style bathroom design ideas
The dark colour used on the built in cabinets make a beautiful backdrop for the light fixture over the table.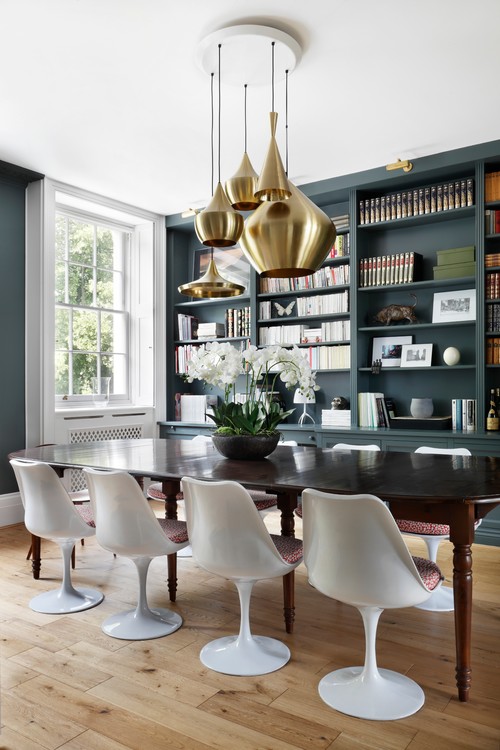 Photo by Turner Pocock – Look for contemporary dining room pictures
Many of us have a room somewhere in our home that does not receive a lot of natural light.  Our first inclination is to paint the room as light as possible to make the room feel brighter.  Try using a warmer, darker colour to make the room feel more intimate.   Basements and powder rooms are good examples of rooms where using a darker colour may be a better choice.
Photo by Donna Dotan Photography – More traditional powder room photos
Despite popular belief painting a room a darker colour will not make it feel smaller.   What can make a room feel small is too much contrast.  Try using either the wall colour or a lighter version of the wall colour on your trim rather then white.
This is a beautiful example where a light gray is used on the trim rather then white which creates less contrast with the dark wall.
Photo by Millworks Designs – More transitional bedroom photos
If you are thinking of implementing this colour trend into your home ensure you also consider your lighting as the darker colours will absorb more light.
If you need help choosing colours for your home please give me a call or email me for your own personal colour consultation.