Decorating your home for the holidays is a very personal experience.  I am a big believer that you should always decorate your home with things that you love whether it's on trend or not.  If you have decided this year is the year to update your Christmas décor a popular look is the Natural Trend.    I'm enjoying this trend myself as it feels warms and cozy and is easy to incorporate into your already existing décor.  Here are five easy ways to bring it into your Christmas décor.
Animals
Animals are a great way to incorporate the Natural style into your home whether it's over the holidays or even after Christmas is over.  I like this look as it injects some fun and ensures we don't take decorating too seriously.   One of the ways I like to see this trend incorporated is through the use of pillows.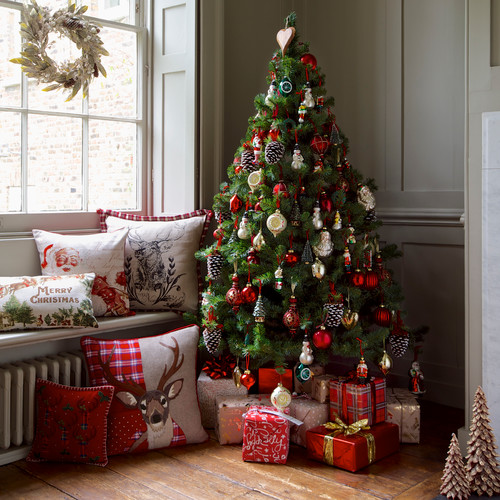 Here is a pillow I bought recently at HomeSense which incorporates the Natural Trend into our Christmas décor.
Faux Furs
Faux furs are a luxurious way to bring the Natural look to your home décor.  A couple of ways this trend can be incorporated is with  throws or pillows.  A faux fur looks beautiful under the Christmas tree in place of a traditional tree skirt.  This is a great trend to incorporate into other rooms of your house including your bedroom.
Pine Cones
Pine cones can make a Natural decorative statement as well.  Have your kids or (for some of us) grandkids collect these for you and display them in a nice deep dish.  They make a nice addition to your coffee table or can be used as a centerpiece for your table.  Adding some evergreens will take it up a notch.
Burlap
Burlap is a fabric commonly used when incorporating the Natural Trend into Christmas décor.  I love the look of burlap as garland on the Christmas tree.
Another way to incorporate burlap into your Natural décor is to use it when hanging a wreath from your door.
Green Foliage
I think we all love the addition of green foliage to our home whether it's at Christmas time or any other time of the year.  There is nothing quite like coming into your home and smelling that beautiful fragrance!
Merry Christmas and Happy Decorating!